Why invest in Maple Leaf Foods?
We are building on our core strengths in brand marketing, consumer insights and innovation, backed up by world-class plants and distribution capabilities.
Our company's operations are organized in three major groups:
Meat Products Group, which includes the value-added fresh meats, chilled and ready to cook products, chilled and ready to server products and packaged meats.
Bakery Products Group, which includes fresh bread, rolls and ethnic breads, bagels, croissants and morning goods, premium artisan bakery products, frozen par-baked and fully-baked goods and fresh pasta and sauces.
Agribusiness Products Group, which includes our rendering, biodiesel production and hog production operations.
An exciting focus of our innovation platform is the ThinkFOOD!™ centre which is home to the Company's product innovation and culinary experts. This world-class product development centre is designed to foster collaboration and accelerate innovation across Maple Leaf's global bakery and protein businesses.  The ThinkFOOD!™ centre opened in April 2009.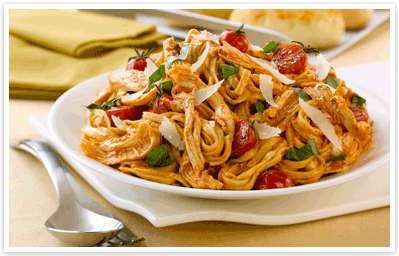 Our focus is to launch more than 100 new products a year, and continue our expansion into new categories like sandwiches and meals. Products such as Dempster's® WholeGrains™ Prebiotic and WholeGrains™ Ancient Grains breads, which are rich in minerals, vitamins, antioxidants, fibre and complex carbohydrates, and convenient meal solutions, such as Maple Leaf Simply Savour™ ready-to-eat meals are great examples of product innovations that are driving category leadership. By anticipating consumer needs and being an early adopter of successful global innovations, Maple Leaf is focused on accelerating new products development that yields higher margin growth.
Our long-term goals include an 11.5% return on net assets and 15% long term earnings per share growth.
Maple Leaf Foods customers are located in over 50 countries worldwide, with domestic sales in Canada still representing the majority of the Company's revenue. The Company also has a significant presence in the U.S. and U.K. through its frozen and specialty bakery operations, and exports fresh pork to Japan.
Maple Leaf Foods is publicly traded on the TSX under the symbol MFI. It is headquartered in Toronto and employs approximately 21,000 people at operations across Canada, the United States, the United Kingdom and Asia.

Back To Top
Data provided by Nasdaq. Minimum 15 minutes delayed.

Obtain information about Maple Leaf Foods and its businesses.



Listen to the latest Maple Leaf Foods quarterly results webcast.


View the Maple Leaf Foods interactive Annual Report.